Due to huge demand for tickets to Arinze Kene's play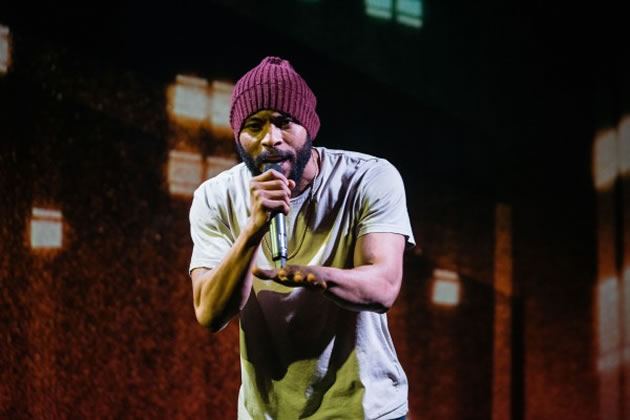 Arinze Kene – Misty. Photo: Helen Murray
Due to the huge demand for tickets to Arinze Kene's play Misty at the Bush Theatre, its sellout run being extended till 27 April.
In the play, Arinzé takes the audience on an epic, lyrical journey through the pulsating heart and dark soul of inner city London.
An inventive blend of gig theatre, spoken word, live art and direct address, Misty which opened at the Bush Theatre on 15 March confronts the assumptions and expectations underpinning the act of telling a story.
Misty is directed by Bush Theatre Associate Director Omar Elerian and features an original musical score performed live during the show.
"Here is the city that we live in
Notice that the city that we live in is alive
Analyse our city and you'll find that our city even has bodily features
Our city's organs function like any living creature
Our city is a living creature
And if you're wise enough, you'll know not all of us are blood cells…
Some of us are viruses."
Screen International UK Star of Tomorrow, actor and writer Arinzé Kene was raised in London to Nigerian parents. His most recent plays include good dog, which tiata fahodzi toured throughout the UK in 2017, God's Property, a co-production with Talawa, which ran at Soho Theatre in 2013 and Little Baby Jesus, directed by Che Walker at the Oval House Theatre, where his play Estate Walls was also produced. Arinzé was named 'Most Promising Playwright' at the Off West End Theatre Awards for Estate Walls in 2011, which was also nominated for Best New Play.
His original feature film, Seekers, is on the Brit List and currently in development. Arinzé was also involved in the development of the second series of Big Talk's Youngers for E4, in which he played the part of Ashley.
On screen he appeared in new E4/Netflix Original series Crazyhead and took the lead of 'Ade' in the film The Pass opposite Russell Tovey for which he was nominated for Best Supporting Actor at the 2016 BIFA's and won the Best Supporting Actor award at the 2016 Evening Standard Film Awards.
On stage he played soul singing legend Sam Cooke in One Night in Miami at the Donmar Warehouse and most recently appeared in the West End in Girl from The North Country. Next he takes the lead role opposite Michaela Cole in Netflix's acquired feature film, Been So Long and in the BBC's new thriller Informer opposite Paddy Considine.
Here's our reviewer Liz Vercoe's verdict on Misty:
Writer and performer Arinzé Kene sidles on to the stage to share a confidence. Hunched over the microphone, his shadow is starkly outlined beside him, in full graphic-novel mode. It's hard not to watch his shadow perform in tandem.
Words flow from his lips, reasoning with rhyme, taking us on a night-bus ride populated, it seems, by surging blood cells and viruses, on a route though a city racing with difference and damage and fear. He sometimes sings his story, too, accompanied by drummer and actress Shiloh Coke and Adrian McLeod on keyboard. A parable of good and evil is driven by a heartbeat beat as Kene drops into it little bombshells of observation about what it feels like to be black in Britain and a black writer in the world of theatre and film today.
Here's hoping local school teachers will take their teens to see this, so that there's some genuine, rather than self-conscious, laughter about a line that only middle-class white people go to the theatre. And also to entertain them with one of the most inventive shows of the year.
But nothing is really pointed, or pointed at, because the story moves on again, flowing over what you thought you just heard. With the aid of a hat we meet Arinzé's alter ego, the character he has created in the script, "based on a true story", he is writing within this play. What movie is not "based on a true story" these days? It's one of the many modern clichés spotted and pinned to the desktop. And once again the story moves on. To a bleak tale of innocence and teenage pregnancy that makes you want to cry.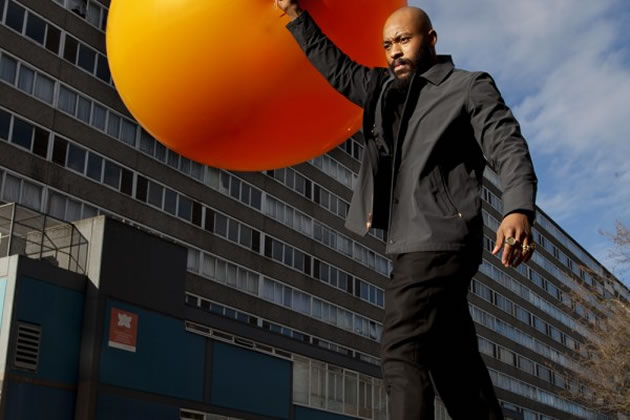 Arinze Kene – Misty. Photo: Bronwen Sharp
Multi-talented Kene includes performance art to share the emotion of being pulled each and every way while trying to be both true to himself but also somehow succeed in a world weighted against him. He even athletically entombs himself in a giant balloon and presents us with a stretchy, talking space-hopper.
In turn he grips, moves, provokes, inspires and, the big one, seriously entertains his audience. Aided by the creative talents of his musicians, director Omar Elerian and the whole design, lighting and projection team.
It should be chaos and indigestible, like eating a spoonful of food from every jar in the cupboard, but in these precise and capable team-hands it all makes delicious sense. Even the inevitable denouement to the play within the play. Makes you think.
Liz Vercoe

April 16, 2018