" We are not anti-Heathrow" says Wandsworth Council Leader Edward Lister
Related Articles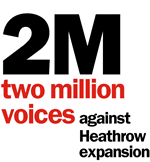 Participate
Comment on this story on the forum
Council leaders say they are ready for the challenge of defending the quality of life of 2 million people affected by Heathrow expansion.
The Government is expect to give the green light this year to a series of measures which could lead to a 50 per cent increase in the number of flights at the airport.
Twelve local authorities in the Heathrow area have now formed a new environmental alliance to campaign against the threats presented by the continued growth of the airport.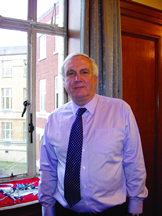 Speaking at today's launch of the new 2M Group of local authorities, Wandsworth Council leader Edward Lister said:
"We formed this group to give a voice to the 2 million people affected by the Government's policy of uncontrolled expansion at Heathrow. We are a cross-party group representing all the local authorities directly affected by Heathrow – from west London to Berkshire and from south London to South Bucks.
"We are not anti-Heathrow – but we are concerned that the Government consistently understates the environmental impact of growth while cynically overplaying the benefits to the economy.
"Over the coming months we can expect a succession of Government announcements that will each add to the numbers of flights using the airport.In time this could lead to a 50 per cent increase in flight numbers which in turn can only mean more noise and worsening air quality.
"It is our duty as local authorities to raise awareness of these threats to our residents' quality of life and ensure we are ready to challenge the proposals when they emerge."
A number of key announcements are expected in the early summer which would all add to capacity at Heathrow. These include plans to end the practice of runway alternation which would allow aircraft to use both existing runways in parallel. It would bring to an end the relief that residents experience at 3pm when aircraft switch runways.
The Government is also expected to confirm that it has 'overcome' the air pollution issues which could stand in the way of the planned third runway.

A bid to lift the 480,000 movements limit at the airport is also expected. This was set in 2001 as part of the go ahead for Terminal Five. The airport is already operating close to this limit.

Ending runway alternation could take this figure up to 515,000 - rising to 650,000 if a third runway were approved. If both runway alternation were ended and a third runway built the number of flights each year at Heathrow would rise to around 720,000.

The 2M Group comprises the London Boroughs of Ealing, Hammersmith and Fulham, Hillingdon, Hounslow, Kensington and Chelsea, Merton, Richmond and Wandsworth, the boroughs of Slough, Spelthorne and Windsor and Maidenhead and South Bucks District Council.
February 26, 2007