Rupa Huq ousts Angie Bray by just 274 votes
Labour have won the Ealing Central and Acton seat with a small majority. The new MP for the constituency will be Dr Rupa Huq who beat the incumbent Conservative, Angie Bray with a majority of just 274 votes.
The seat was always expected to be a close one and, with the Tories doing better than expected nationally, Labour will be relieved to have taken the seat.
Dr Huq said after the count was in, ''This certainly has been a hard fought battle. We've sent a clear message you can't trust the Tories with The NHS. It's a victory won not just by me but the many thousands who put their trust in me.''

Candidate

Party

Votes
%
Change

Huq, Rupa

Labour Party

22,000

43.2

+13.1

Bray, Angie

Conservative

21,728

42.7

+4.7

Ball, Jon

Liberal Democrat

3,106

6.1

-21.5

Florence, Peter

UK Independence Party

1,926

3.8

+2.2

Sharman, Tom

Green Party

1,841

3.6

+2.1

Notley, Jonathan

Independent

126

0.2

+0.2

Dore, Scott
Workers' Revolutionary Party

73

0.1

+0.1

Rygielski, Andrzej
Europeans Party

64

0.1

+0.1

Rendle, Tammy

Above and Beyond

39

0.1

+0.1

Majority

274

0.0

Turnout

71.4

0.5
In 2010, Angie Bray won the newly created seat with a majority of 3,716, representing a swing from Labour to the Conservatives of 5%.
She's been an active local MP who has been vocal with residents over matters in W3 including Horn Lane pollution, and The Oaks development as well as campaigning for Ealing to get it's cinema back. Conceding defeat, the dejected Ms Bray made a dignified speech thanking her team saying '' sorry guys I didn't get there' and wishing Dr Huq all the best for the future.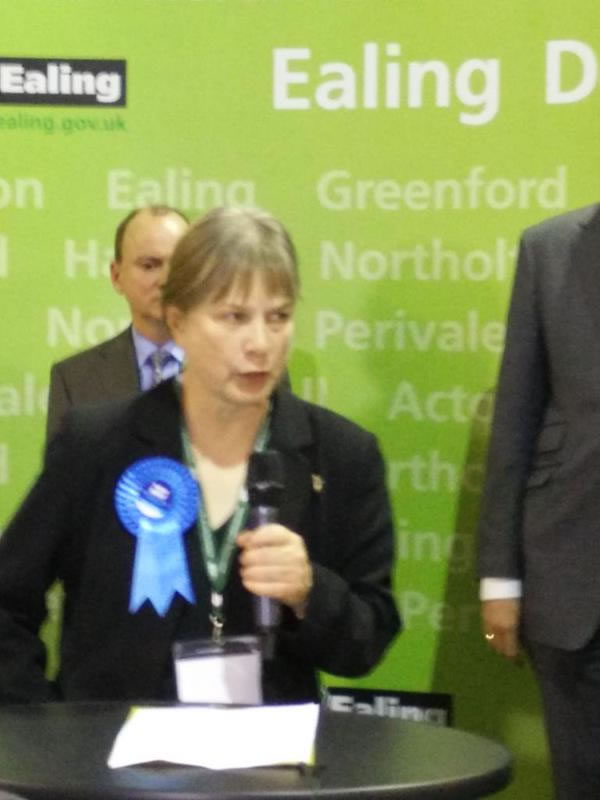 Angie Bray conceding defeat
Ms Huq has focussed on key Labour issues including saving local hospitals and the NHS, reducing the poverty gap and creating a fairer society.
In the lead-up the to Election, campaigning was fierce and footage showing Rupa Huq apparently being 'manhandled' by Tory activists caused outrage from Labour and claims that it was a 'political stunt' from the Tories.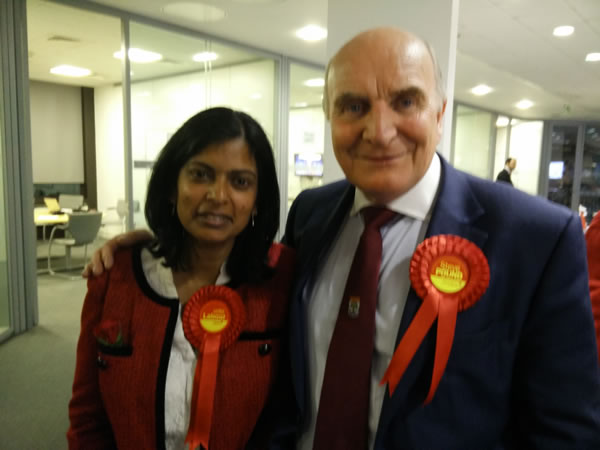 Rupa Huq celebrates the win with Steve Pound who held on in Ealing North
Controversially, independent candidate Jonathan Notley had urged voters to back Rupa Huq just before the poll having originally stood as a protest against overdevelopment in the area. In the event he did not achieve enough votes to affect the result.
The victory for Labour was part of a clean sweep across the Ealing constituencies with Steve Pound winning in Ealing North and Virendra Sharma taking Ealing Southall.
Result From May 2010
Candidate

Party

Votes
%
Change*

Bray, Angie

Conservative

17,944

38.0

+6.8

Mahfouz, Bassam

Labour Party

14,228

30.1

-3.2

Ball, Jon

Liberal Democrat

13,041

27.6

-3.0

Carter, Julie

UK Independence Party

765

1.6

+1.6

Edwards, Sarah

Green Party

737

1.6

-3.3

Fernandes, Suzanne

Christian Party

295

0.6

+0.6

Akaki, Sam

Independent

190

0.4

+0.4

Majority

3716

7.9

Turnout

47,200

74.3
* Change is based on notional constituency assuming boundary changes applied in 2005
May 8, 2015