Police get new powers to combat anti-social behaviour
Related links
Hanger Hill Ward Zone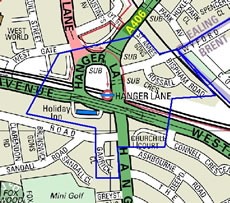 Hobbayne Ward Zone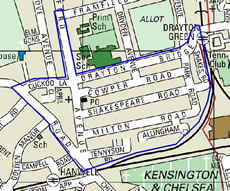 Sign up for a free newsletter from EalingToday.co.uk
Local Police have issued two dispersal area notices for parts of the borough after a number of reports of anti-social behaviour. The orders give police officers and PCSOs extra powers to disperse groups of youths hanging around the area.
One zone covers the Hanger Lane Gyratory including all subways as well as St Annes Gardens, Twyford Abbey Road to the rail track, Bispham Road, Rossall Crescent, Western Avenue (East) to the junction of Connell Crescent, Churchill Court, Hanger Lane (South) to the junction of Ashbourne Road, Garrick Close, The Holiday Inn car park.
The implementation of the dispersal order follows a series of complaints from residents, commuters and local businesses about the activities of the windscreen washers in the proposed area.
Intelligence reports collated by the police and council, over the past couple of months, specify that there is a significant problem, primarily with, the windscreen washers gathering in this area who are trading illegally, street drinking, noise nuisance, shoplifting, and who engage in threatening behaviour, intimidation, verbal abuse, harassment of the motorists, public, local residents and proprietors.
A second zone in Hanwell covers Church Road (North of the Railway Bridge to the junction with Cuckoo Lane), Greenford Avenue (South from the junction with Framfield Road), Cuckoo Lane, Drayton Bridge Road from the Greenford Avenue to Drayton Green Railway Station), Park Road, Cowper Road, Shakespeare Road, Milton Road, Allingham Close and Tennyson Road. The order will include all paths, alleys, grassed areas, service roads and communal stairwells and staircases. This order runs until the 15th February next year. Ealing borough police has dealt with over 90 Anti Social associated allegations of crime in the area between January – July 2007 for such offences as violence, criminal damage, street crime, drugs, Theft from Motor Vehicle, noise nuisance, street drinking, rowdy inconsiderate behaviour and verbal abuse to the general public and shop proprietors.
The police can now tell people in a group or people who don't live in the area to leave. They can also direct someone who is not from the area not to return for 24 hours. Any one under 16 not in the company of a responsible adult can be taken to their home if they are out between 9pm and 6am.
To remain or return to this area having been told to leave is an offence under Section 32 of the Anti-social Behaviour Act 2003, punishable by 3 months imprisonment and / or a fine not exceeding £2500.
Community and Partnership Superintendent Ian Jenkins of Ealing Borough Police said, "Ealing Borough Police is committed to working in partnership with Ealing council and the local community to tackle persistent anti-social and nuisance behaviour. We believe this dispersal order will further enhance the community's quality of life and help achieve a sustained reduction of crime and disorder in the area. It is important that people witnessing any anti-social behaviour in the area report it to the police immediately so the appropriate action can be taken against offenders."
If you wish to report antisocial behaviour in the Hanger Hill Ward Dispersal Area you can do so by contacting the Hanger Hill Safer Neighbourhood Team on 020 8721 2947 or Ealing Borough Police (Non Emergency Telephone Number) 020-8810-1212 or via e-Mail to: ealingintelligence-xb@met.police.uk.
If you wish to report antisocial behaviour in the Hobbayne Ward Dispersal Area in Hanwell you can do so by contacting the Hobbayne Safer Neighbourhood Team on 020 8721 2919 or Ealing Borough Police (Non Emergency Telephone Number) 020-8810-1212 or via e-Mail to: hobbayne.snt@met.police.uk.
Alternatively please contact Crimestoppers anonymously on 0800-555-111. In an Emergency always dial 999.
August 23, 2007